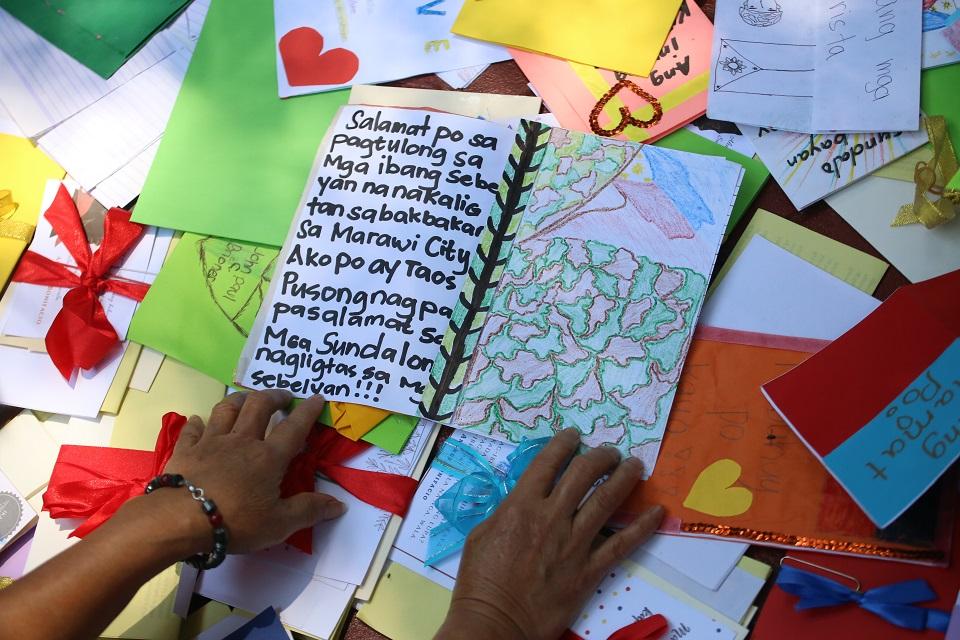 Some of hundreds of letters from schoolchildren to the troops in Marawi City are displayed in a house in Alabang City on Sunday, June 18, 2017.
Photos: Danny Pata
Over 2,000 letters filled with gratitude, appreciation and love from students in Metro Manila were taken to Marawi City.
These love-filled letters were for the soldiers battling terrorists in the war-stricken city of Marawi.
Dr. Tiger Garrido started a donation drive for garments and thank-you letters to lift the spirits of the deployed soldiers. He launched "Oplan Malasakit" through Facebook on June 12, Independence day and has gathered almost 600 pairs of black socks and underwear.
Apparently, Garrido and his friend, Joe Green, delivered goods in Kampo Ranao in Marawi City and learned from the soldiers in the camp their lack of socks and underwear. Garrido has soldier friend whom told him that receiving letters from family and relatives keeps their spirit high.
"We just want our heroes to get the recognition and support of the very people they are protecting and giving their lives for," Garrido said to the media.
How did the word spread?
An English teacher from PAREF Woodrose School in Muntinlupa City named Rinz Araneta found out Garrido's plans and helped spread the word to her students and co-teachers.
The letters were from the students of Woodrose, De La Salle Santiago Zobel School in Muntinlupa City, Veritas Catholic School in Parañaque City, and Culiat Elementary School in Quezon City.
Araneta also received e-mails from different other senders which were handwritten to make more personal.
Garrido then posted the drop-off locations in Alabang, Makati City, Pasig City, Quezon City, Cebu and Bacolod on his Facebook account.
"I thought it would be easy to write a letter but it was actually quite difficult,"Araneta said.
"Other senders also told me it was very hard for them to start writing. What do you say to these people? How do we comfort them? We don't know what it's like to risk our lives for our country," she added.
"We just want them to know that we honor them and we are grateful for their sacrifice. We admire them for their bravery. The kids were able to express it very well in their cards," she stated.
There were also e-mails from Australia, UK, and USA.
"The one from the UK was very touching. He didn't have to kasi di naman natin kababayan," Araneta said.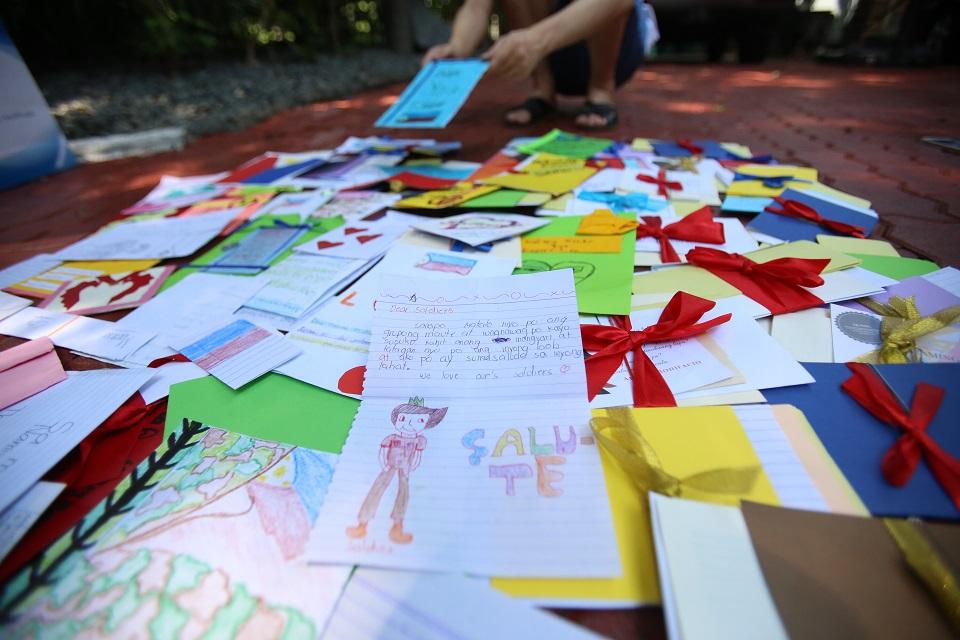 (photo via gmanetwork.com)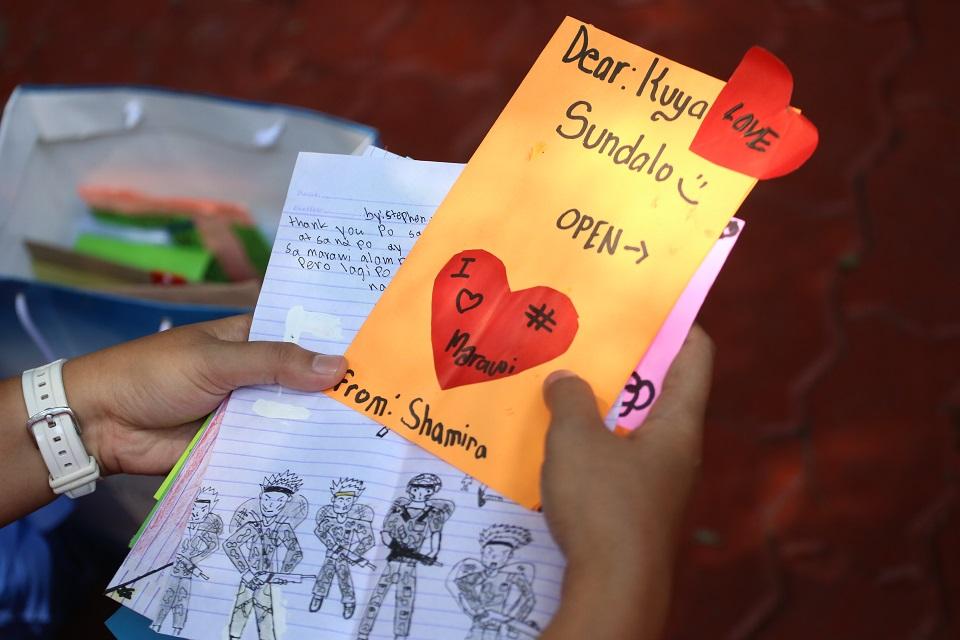 (photo via gmanetwork.com)
LETTERS REACHED SOLDIERS
Life of a soldier in battle is never certain. They spend half of their life in training and the other half in public service. Even a little recognition and appreciation can move the hearts of these tough public servants.
The 62-year old Army reservist, Corporal Victoriana Tiongco, was teary-eyed while reading the letter she received from someone she never met nor knew.
"Na-touch lang ako sa letter na binigay nyo. Ang sarap basahin. Naka-inspire sa amin. Salamat," she said while tears kept flowing from her eyes.
Another soldier, Corporal Jobert Piojo of 4th Mechanized Brigade PA, was also teary-eyed after reading the letter handed to him.
"Masaya kami ma'am kasi, galing sa sulat ng mga bata ma'am, proud kami ma'am kahit na mahirap yung trabaho namin. Masaway kami sa aming mga natanggap. Nafi-feel din namin ma'am na gusto din namin matapos agad itong gulo na to," he said.
The Go Negosyo Go Kapatid for Marawi Advocacy handed bags of simple gifts for 5,000 soldiers in Iligan City and Marawi City and inside are the letters from the students.
The package includes ready-to-eat meals, slippers, water, energy drinks, biscuits and snacks, new underwear, pairs of socks, sim and a load card.
"These are actually gifts that we're giving out to all our soldiers and policemen who are in the frontlines battling it out in this war," Ginggay Hontiveros said, Go Negosyo Head for Sulu and Marawi.
Commanding Officer of the 4th Mechanized Infantry Battalion, Col. Alex Aduca, said that the support from fellow Filipino citizens is boosting soldiers' morale and that even the smallest manifestation of gratitude means a lot to them.
Source:
INQ
,
CNN