It was one of President Rodrigo Duterte's campaign platform to put a stop to the increasing number of crimes, drugs and corruption and looks like he really is getting there.
"If I become President, it would be bloody because I will order the killing of all criminals, ang mga durogista at drug lords," Duterte said during a Presidential Debates in February 2016.
Duterte imposed a six-month deadline in wiping out all of this, however, on September 18 he retracted his self-imposed deadline after discovering the severity of the drug problems in the Philippines.
"I did not realize how severe and how serious the problem of drug menace in this Republic until I became President," Duterte said in his speech on the release of Norwegian hostage Kjartan Sekkingstad.
According to the data from Philippine National Police, Duterte was able to bring down the crime rate to 10 percent in his first 11 months as the President, of course, through the help of his entire administration.
The Duterte administration also attained a new quarterly record low in crime victimization since 1989 during his first six months as President.
The Social Weather Stations survey on crime victimization released in January 2017 showed that 4.9 percent of families said they were recently victimized by any crime.
However, since the start of his administration, the media and opposition continued to count the drug-related deaths of criminals and called it "extra-judicial killings", putting all the blame to cops and the President's nationwide war on drugs.
Different personalities, who claimed to be experts in this and that field describe the increase in drug-related death toll as cause for concern.
"Maaaring sabihin na mataas ang nagawa niya sa paglaban sa kriminalidad at sa drug abuse. Pero kung sa process ng paglutas ng kriminalidad ay may mga buhay na nawala, sa aking paningin ito ay dapat bantayan at suriin, tignan kung ang fight against criminality nga ba ay pwedeng sabihin na achievement o isang tagumpay ng administrasyon," said Edna Co, a professor of the University of the Philippines National College of Public Administration and Governance.
In Duterte's first eleven months, July 2016 to May 2017, crime rate dropped by 10 percent compared to July 2015 to May 2016 which was during the Aquino administration.

(via GMA News)
Heinous crimes such as murder, homicide, physical injury and rape as well as crimes against property such as robbery, theft and carnapping falls under the "Index crimes". While non-index crimes involve violations of special laws such as those on illegal drugs, illegal logging and illegal gambling or local ordinances.
From the figures shown by the PNP, index crimes dropped by 27.02 percent, non-index decreased by 3.84 percent.

"Ito yung isang positibong epekto ng kanyang kampanya. Yung pagbigay-pansin doon sa problema ng kriminalidad at drug abuse ay isang malaking eye opener, pagbubukas ng ating mata at kaisipan na ganito na pala yung extent o yung lawak at lalim ng kriminalidad," Edna Co said.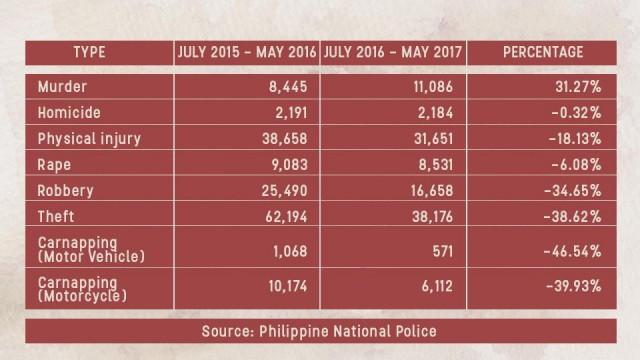 (via GMA News)
However, there was drastic increase in murder, increasing to 31.27 percent from July 2016 to May 2017. Homicide, physical injury, rape, robbery, theft all carnapping (both motor vehicle & motorcycle), all of these types of crimes declined from 0.32 percent as the lowest to 46.54 percent as the highest drop down rate.

(via GMA News)
Senior Supt. Dionardo Carlos, PNP spokesperson, said that the administration's critics have been missing the whole picture and ignoring the result of this campaign as whole.
"Over the past months, ang binibilang, ang focus, yung may namamatay. Hindi nila ina-assess ang kabuuang result. The result is the Philippine National Police through its Oplan Tokhang have reached 95 percent of the campaign. Yung tinokhang, yung ating inabot, na sila ay magbago," he said.
Since President Duterte assumed office in July, the SWS survey states that number of victimized people decreased to 6.8 percent in the 3rd quarter of the year compared to 11.4 percent during the 2nd quarter of 2016.
"Kahit bumaba yung krimen subalit kung ito ay nangyayari sa atmosphere of fear, ng discomfort, medyo kailangan siguro i-review. Bisitahing muli kung paano isasagawa. Ano ang pamamaraan ng pagsasagawa ng crime fighting, ng pagbaba sa kriminalidad, sapagkat ito ay isang timbangan ng buhay," Co said.
"Are we really safe dahil free from crime or are we safe dahil takot tayo o takot ang mamamayan na magsalita, na ituro pa dahil may consequence doon sa killing, may consequence doon sa arrest?" she added.
She was referring to the PNP's Oplan Double Barrel suspension in January due to the rogue policemen who took advantage of the campaign, causing the slay of South Korean businessman last October.
PNP reports that about 30 rogue cops were arrested in 19 Counter-Intelligence Task Force (CITF) operations conducted since February 3, 2017 for various offenses.
The suspended campaign, renamed to Oplan Double Barrel Reloaded, was relaunched in March. Senior Supt. Dionardo Carlos stated that blaming policemen for the summary killings is unfair. He noted that the illegal drug groups are the ones doing the "cleaning up" to put their pawns in silence.
"The drug groups themselves are trying to protect their identity… Yung ating inaabot araw-araw sa tokhang yung street-level pushers nila. Ayaw ng kanilang supplier na maituro sila. So merong gun for hire sa organization ng drug group. Nakita natin na they're trying to eliminate people who would point to them," he said.
"Mayroon bang kailangang ikatakot yung taong bayan sa ginagawang police operation? Wala. Matatakot ka kapag ikaw ang nava-violate ng batas, Carlos added.