Agot Isidro claiming another set of 15-minute fame on social media, this time it's on Twitter.
Dismayed on the death of the prominent drug lord Mayor Aldong Parojinog, the actress questioned the of the "Outstanding Performance in Anti-illegal Drug Operations" award Ozamiz City Police Chief Inspector Jovie Espenido .
Seems like the actress isn't in favor of the award that was granted to the man who lead the team in a drug raid operation resulting to the death of the mayor and arrest of his daughter and son, Nova Princess and Reynaldo Jr. on July 30.
In her tweet, Agot said, "Reward those who........ never mind" attached was the news on Espenido's special award.
Watch Video: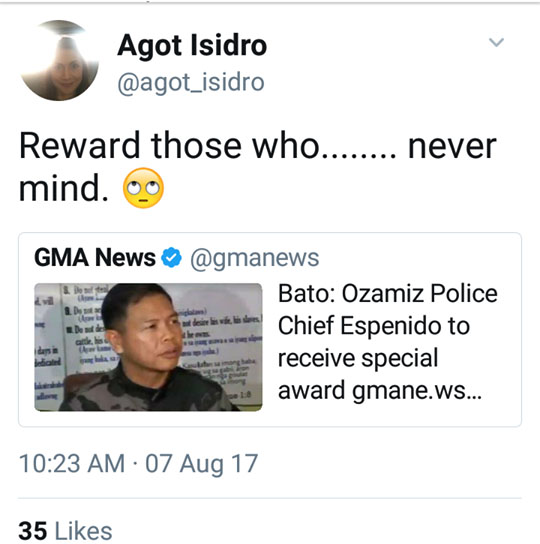 Her tweet garnered some reactions: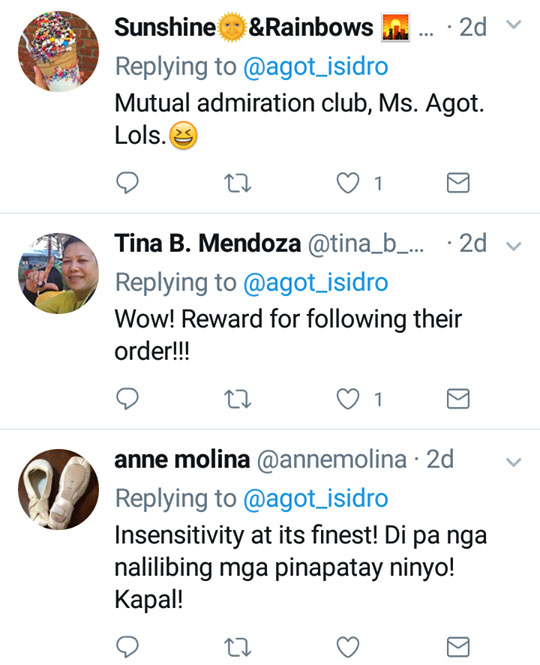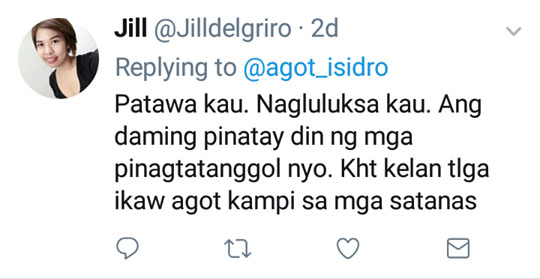 This isn't the first the actress tweeted something against the government authorities. The previous ones were her calling Police Superintendent Marvin Marcos at PNP Chief Director General Ronald 'Bato' dela Rosa bozos.
— Agot Isidro (@agot_isidro) July 13, 2017
Seems like the actress doesn't have a single respect to anyone in the government especially to the President. Agot previously wrote a short message to President Rodrigo Duterte on October 7, 2016. In her Facebook post, she criticized him for the negative remarks on the United States. At the end, she called the incumbent President of the Republic of the Philippines a psychopath.

"

Unang-una, walang umaaway sa iyo. As a matter of fact, ikaw ang nang-aaway. Pangalawa, 'yung bansa kung saan ka iniluklok ng 16 million out of 100+ million people ay Third World.. Kung makapagsalita ka parang superpower ang Pilipinas eh," Isidro wrote. "At excuse me, ayaw namin magutom. Mag-isa ka na lang. Wag kang mandamay. Hindi na nga nakakain ang nakararami, gugutumin mo pa lalo.
"Pangatlo, may kilala akong psychiatrist. Patingin ka. Hindi ka bipolar. You are a psychopath."
Presidential Spokesperson Ernesto Abella
said the actress is entitled to her own opinion. But it looked like, she is missing the point.
"W
e need to really hear what the President is calling Filipinos to do, which is be free from dependence on foreign aid, which is what the lady is fearful we will lose," Abella said.
"
The President is calling for Filipinos to be truly independent economically and mentally and psychologically," he added.
Source: INQ, Pep